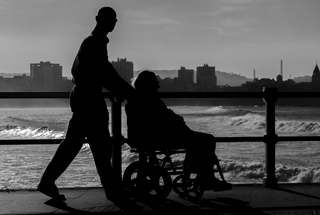 Search and Care "seeks out older people who need help managing life's daily activities or accessing essential services, and provides them with support and companionship to live with security and dignity in the manner they choose." As the New York City older population grows, so does the demand for our services—particularly from those who are frail, isolated, homebound, and have few (if any) supports to rely upon. Our mission is more relevant than ever.
Your gift would help us immediately provide our compassionate, fee-free, comprehensive care to every older person in-need who contacts us, ensuring they can age safely at home for as long as is feasible—with enhanced quality of life, dignity, and peace of mind.
Make your check payable to Search and Care and mail to:
Search and Care
1844 Second Avenue
New York, NY 10128
Giving long-term appreciated securities provides two income tax benefits: no tax is imposed on the appreciated portion of the gift (long term capital gains), and the donor will receive a charitable deduction based on the stock's fair market value. Because the donor can avoid the capital gains tax, it is usually more advantageous to contribute appreciated securities directly to Search and Care rather than selling securities and donating the proceeds of the sale. For more details, contact Brian C. Kravitz at (212) 289-5300 ext. 206.
Many employers have a matching gift program. Under these programs, the company matches all or part of their employee's gift contributed to Search and Care. Matching gifts are credited to the donor's individual gift record. Ask your employer if they participate in such a program. For more information, contact Dana Pirulli at (212) 289-5300 ext. 207.
Please consider naming Search and Care in your estate planning or living trust. Contributing to Search and Care through a bequest is a wonderful way to support our programs, and your legacy can be recognized in a number of ways, which can be individually determined. For more details, contact Brian C. Kravitz at (212) 289-5300 ext. 206.
Search and Care, Inc. is a corporation organized under the New York not-for-profit corporation law. Contributions to Search and Care, Inc. are exempt under section 501(c)(3) of the Internal Revenue Code. Search and Care's Annual Report is available from the New York State Department of Law, Charities Bureau, 120 Broadway, New York, NY 10271. For more information on Search and Care's finances, please visit Guidestar (will open in new window).